The Photovoltaic Solution
When would a Photovoltaic solution be right for you?
Let's assume that you work with battery powered IoT wireless devices that operate under light sources that may come from sun, light bulb, tube, etc. You need to replace the batteries of those devices, because they run out of energy. This generates operational costs.
But, most probably, there is enough of energy in the light surrounding your devices that you could use to power them.
Depending on the lighting conditions (low light indoor conditions to bright sunny outdoor conditions), traditional photovoltaic (PV) cells can generate from 10µW to 10mW per cm².
When properly selected (material and topology) and sized (illuminated area), a PV cell combined with e-peas' state of the art energy harvesting PMICs will recharge the batteries of your IoT applications from ambient light.
Using e-peas' photovoltaic energy harvesting, you will avoid typical operating costs associated with battery replacement.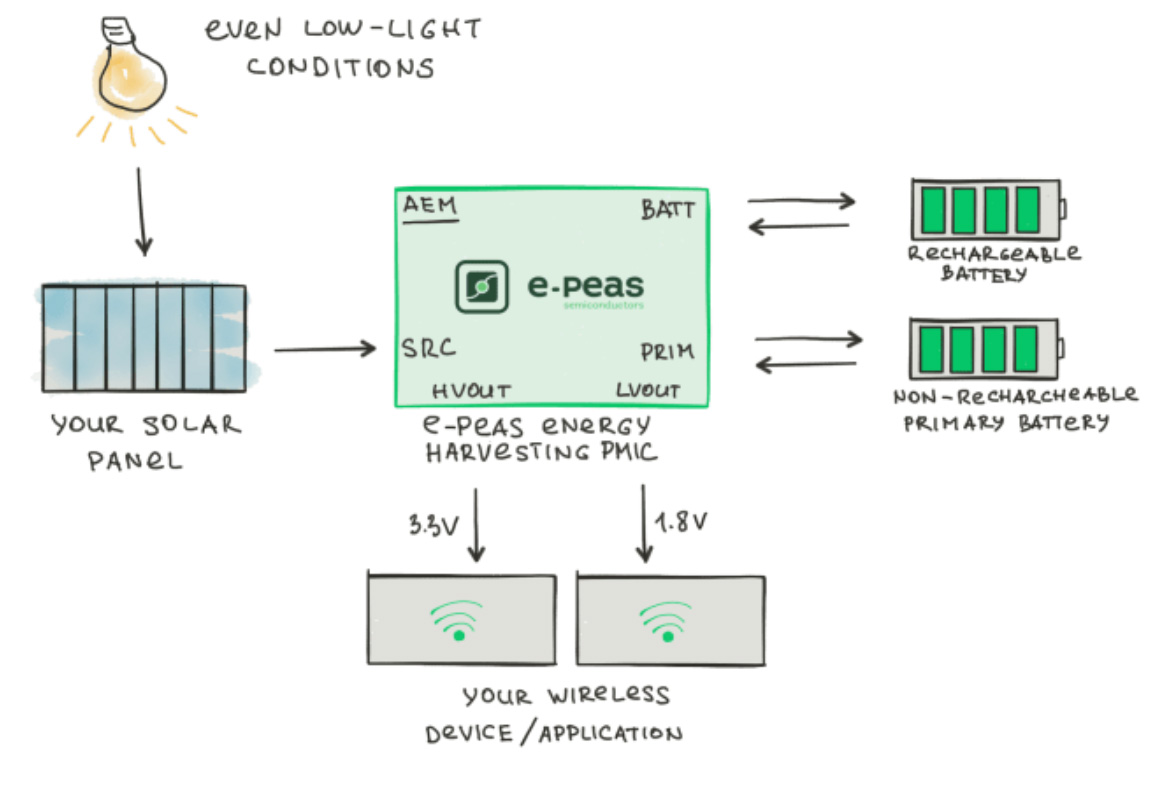 What exactly does e-peas offer?
Best performing solutions that make your devices' batteries live forever. Our innovative ICs autonomously and efficiently recharge your batteries in any light conditions: bright, changing, or even in very low ones with a PV cell generating as low as 3µW.
e-peas offers AEM [Ambient Energy Manager] reference:
The AEM10940 allows you harvesting energy from up to 2 cells in series solar panels producing from 11µW up to 32.5mW.
The AEM10941 allows you for harvesting energy from up to 7 cells in series solar panels producing from 3µW up to 625mW.
Why e-peas? How does e-peas differ from competitors?
Both references are based on e-peas unique AEM platform offering:
top energy conversion efficiency
the fastest supercapacitor charge
the lowest cold-start power
the smallest footprint and associated components BOM
In addition, you will get direct access to engineering support by both Hawyang and e-peas engineers.


Product Matrix
The following product(s) is/are recommended for photovoltaic applications:


Part Number

Vin

Cold-start

Pin
Pout

MPPT

Package

AEM10941

50mV to 5V

380mV
3μW

1μW to 625mW

10mA@1.8V
80mA@2.2-4.2V

Yes

QFN28




5x5mm
Use Cases
Smart Irrigation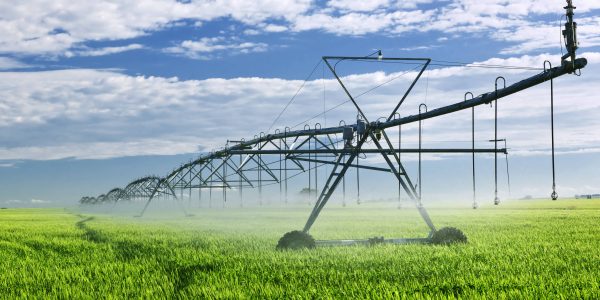 Different from typical irrigation system which sprinkles with a pre-defined schedule, smart irrigation uses sensors to acquire environmental data such as real-time climate, temperature, soil conditions, humidity, etc. to dynamically adjust the amount of water to be sprayed at a flexibly appropriate time.

For example, when temperature rises, precipitation falls, a smart irrigation system can respond accordingly, adjusting the size of the spray and positioning in a more precise direction. All decisions can be made intelligently after the cloud process data collected from the sensors monitoring latest weather and soil conditions. The system can further work with other smart sensors to collectively constitute a sizable database providing even more accurately computer-based analysis for future climate or precipitation prediction, all very important data to decide whether plants should be irrigated more or less before a potential opulent rainfall or drought.

Given its unique geolocation and landscape, East Asia in the Monsoon belt are particularly prone to the unpredictability unexpected climate brings about. Smart irrigation system is the best solution to counteract these volatile risks.
E-peas Solutions
E-peas is compatible with photovoltaic energy harvesting solutions, which allows you to take advantage of the abundant sunlight Mother Nature provides to supply your smart irrigation systems. For details, consult the "AEM10941 for Photovoltaic Harvesting" section below.
Smart Farming: Cattle Tracking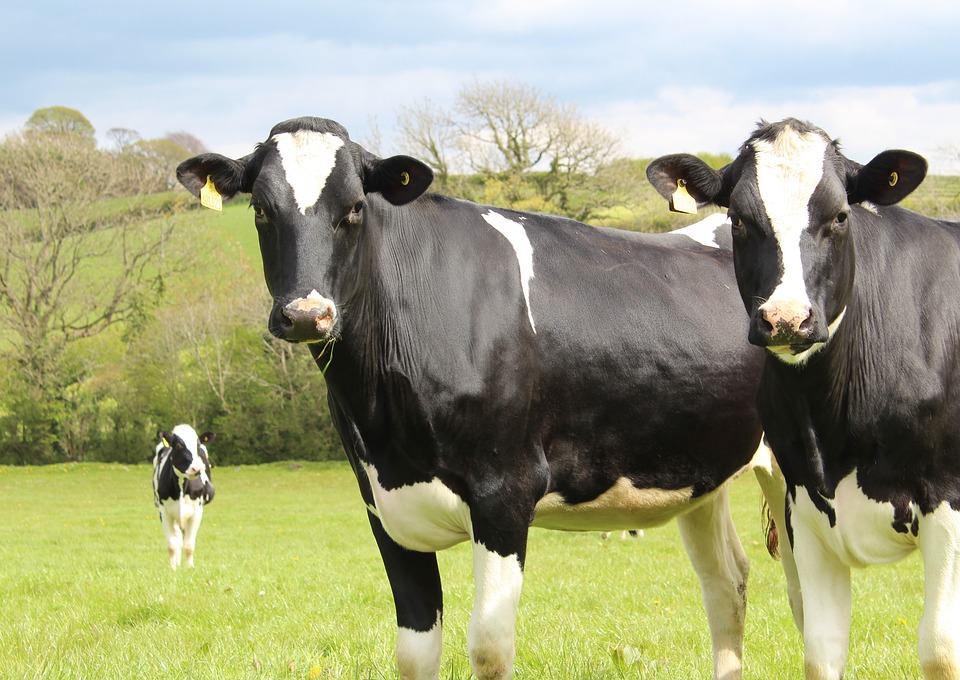 With the rising public awareness of animal rights and food chain integrity, including its implicit impact on consumers' health, have all pushed up the demand for organically farmed produce and products. Moreover, some governments even made laws which are against farmed animal cruelty and request ranchers to farm animals from tethering and should permits animals with sufficient space to move. These aforementioned trends are rapidly changing the landscape of next-generation animal husbandry. In order to facilitate these temporal changes, farmers also need to start exploring innovative ways to reduce costs which may incur to accommodate these new requirements.

Smart Farming becomes a hot topic. Fasten a geolocation trackers onto each cattle can effectively track down the locations of free-range cattle, allowing farmers let free of his or her cattle without risking losing them. Such sensors can also be compatible with additional features such as monitoring the animals health conditions and report back to the cloud.

Take northwestern China or Mongolia as another example, ample dessert has always been home to thousands of herders who traces water move from place to place by the thousands of years' accumulation of experiences. With rapid urbanization and societal changes, younger generation herders also aspire to move into towns for better living condition. How to maintain their business become a critical concern. Thanks to smart farming, urban nomads can still track their cattle easily through a swipe on their smart phones or tablets. They no longer need to spend abundant traffic time travelling back and forth the prairie and home. Now paying mandatory visit when the app reports a problem would be just as necessary. The time and monetary costs saved from cutting redundant travels can be invested in other activities such as producing other products such as dairy using the milk from their herds, increasing productivity and efficiency.
E-peas Solutions
E-peas is compatible with photovoltaic energy harvesting solutions, which allows you to take advantage of the abundant sunlight Mother Nature provides to supply your smart farming and cattle tracking solutions. Successful cases using e-peas include a cattle tracking system developed in Australia, where sensors are tagged onto the ears of cows to track its locations. For details, consult the "AEM10941 for Photovoltaic Harvesting" section below.
Smart Aquaculture: Water Quality Management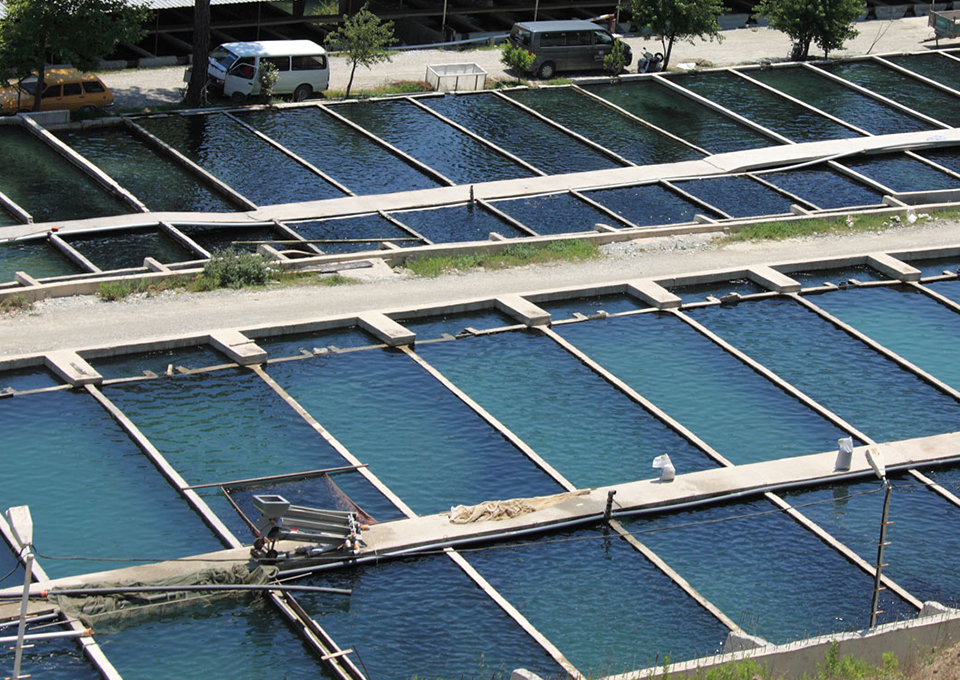 Conventional aquafarming is not only labour-intensive but a high-risk business, with unexpected incidents ranging from natural disasters such as tropical storms or floods to viral infections to even minor accidents such as a water aerator breakdown that threatens the oxygen supply in the water, could all easily lead to a catastrophic monetary loss. Aqua-farmers therefore typically dare not travel afar to take a close care of their farms.

Water quality is the primacy has thus been a consensus among farmers. With the implementation of smart water quality monitoring system, aquafarmers can easily keep track of the water quality in their pond and the health conditions of its fish, to further reduce use of drugs and mortality rate. Increase efficiency translates into profits. Spared from being tied up at the fish pond, farmers also enjoy more time exploring additional business opportunities to augment its sales.
E-peas Solutions
E-peas is compatible with photovoltaic and thermal energy harvesting solutions, which allows you to take advantage of the abundant sunlight Mother Nature provides to supply your smart aquaculture solutions. Take a look at the "AEM10941 for Photovoltaic Harvesting" section below for more details. Select customers also chose "thermal" solutions, which makes a good use of the temperature difference between above and beneath the surface of pond water to generate energy. For details, visit the page here.


AEM10941 for Photovoltaic Harvesting
E-peas' photovoltaic energy harvesting IC solution – AEM10941 – is the next generation integrated energy management subsystem that extracts DC power from up to 7 cells solar panels to simultaneously store energy in a rechargeable element and supply the system with two independent regulated voltages. This allows product designers and engineers to extend battery lifetime and ultimately get rid of the primary energy storage element in a large range of wireless applications like industrial monitoring, home automation, wearables.
The AEM10941 harvests the available input current up to 125 mA. It integrates an ultra-low-power Boost converter to charge a storage element, such as a Li-Ion battery, a thin film battery or a super- or conventional capacitor. The Boost converter operates with input voltages in a range of 50 mV to 5V. With its unique cold-start circuit, it can start operating with empty storage elements at an input voltage as low as 380 mV and an input power of just 3 µW.
The low voltage supply typically drives a microcontroller at 1.8 V. The high voltage supply typically drives a radio transceiver at a configurable voltage. Both are driven by highly efficient LDO (Low Drop-Out) regulators for low noise and high stability.
Configuration pins determine various operating modes by setting predefined conditions for the energy storage element (overcharge or overdischarge), and by selecting the voltage of the high voltage supply. However, special modes can be obtained at the expense of a few configuration resistors.
The chip integrates all the active elements for powering a typical wireless sensor. With only seven external components, integration is maximum, footprint and BOM are minimum, optimizing the time-to-market and costs of WSN designs in all markets.
Five identical capacitors and two inductors are required, available respectively in the small 0402 and 0603 SMD formats.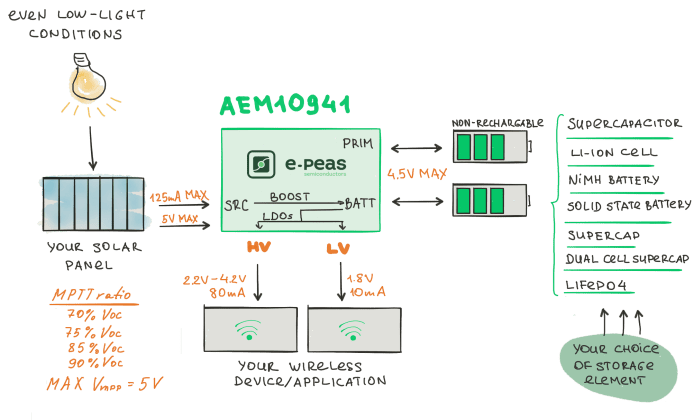 Ultra-low-power start-up
Cold start from 380 mV input voltage and 3 µW input power (typical)
Ultra-low-power Boost regulator
Open circuit voltage sensing for MPPT every 5 s
Configurable MPPT with 2-pins programming
Selectable Voc ratios of 70, 75, 85, 90%
Input voltage operation range from 50 mV to 5V
MPPT voltage operation range from 50 mV to 5V
Integrated LDO regulator at low voltage
1.8 V, high efficiency
Up to 10 mA load current
Power gated by external control
Integrated LDO regulator at high voltage
Configurable from 2.2 V to 4.2 V
Up to 80 mA load current with 300 mV drop-out
Power gated by external control
Flexible energy storage management
Programmable overcharge and overdischarge protection
For any type of rechargeable battery or (super)capacitor
Fast supercapacitor charging
Warns load when battery is getting empty
Warns when regulators are switched on
Smallest footprint, smallest BOM
Only seven passive external components
Optional primary battery
Automatically switches to the primary battery when secondary battery gets empty
Documentation
| | | | |
| --- | --- | --- | --- |
| Item | Version | Last Update | Download |
| AEM10941 product brief | PB_AEM10941_REV1.3 | 17/05/2018 | Download |
| AEM10941 datasheet | DS_AEM10941_REV1.3 | 25/09/2018 | Download |
| AEM10941 user guide (for evaluation board) | UG_AEM10941_REV1.0 | 25/09/2018 | Download |
| AEM10941 mini board | MB_AEM10941_REV1.2 | 08/04/2019 | Download |
| AEM10941 mini evaluation board | MEB_AEM10941_REV1.0 | 19/03/2019 | Download |
| AEM10941 extDCDC mini evaluation board | MEB_AEM10941_extDCDC_REV1.0 | 19/03/2019 | Download |