The Thermal Solution
When would a Thermal Energy Harvesting solution be right for you?
Let's assume that you work with battery powered IoT wireless devices that operate in an environment presenting thermal gradients generated by heater, human body, furnace, motor, etc. Without energy harvesting, you need to replace the batteries of those devices, because they run out of energy. This generates operational costs.
But, in some environments, there is enough of energy dissipated by surrounding machines that you could use to power your devices.
Depending on the available temperature gradients, TEGs can generate from 20µW to 10mW per cm².
When properly selected (material and topology) and sized (area exposed to temperature gradients), a TEG combined with our state of the art energy harvesting PMICs will recharge the batteries of your IoT applications from hot or cold sources.
Using e-peas' thermic energy harvesting, you will avoid typical operating costs associated with battery replacement.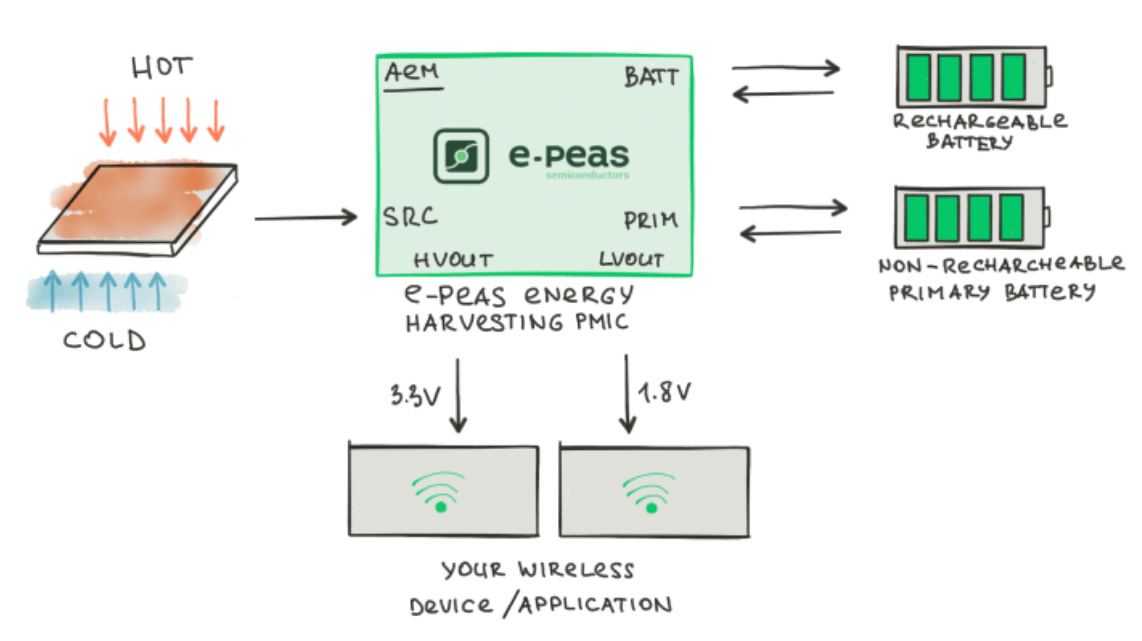 What exactly does e-peas offer?
Best performing solutions that make your devices' batteries live forever. Our innovative ICs autonomously and efficiently recharge your batteries from any temperature gradients.
e-peas offers you 1 AEM [Ambient Energy Manager] reference:
The AEM20940 allows you for harvesting energy from TEG producing from 3µW up to 625mW.
Why e-peas? How does e-peas differ from competitors?
This reference is based on e-peas unique AEM platform offering:
top energy conversion efficiency
the fastest supercapacitor charge
the lowest cold-start power
the smallest footprint and associated components BOM
In addition, you will get direct access to engineering support by our designers.


Product Matrix
The following product(s) is/are recommended for thermal applications:


Part Number

Vin

Cold-start

Pin
Pout

MPPT

Package

AEM30940

50mV to 5V

380mV
3μW

1μW to 625mW

10mA@1.8V
80mA@2.2-4.2V

Yes

QFN28




5x5mm

AEM20940

50mV to 5V

60mV
150μW

3μW to 400mWW

20mA@1.2-1.8V
80mA@1.8-2.5-3.3V

Yes

QFN28


5x5mm
Use Cases
Smart Aquaculture: Water Quality Management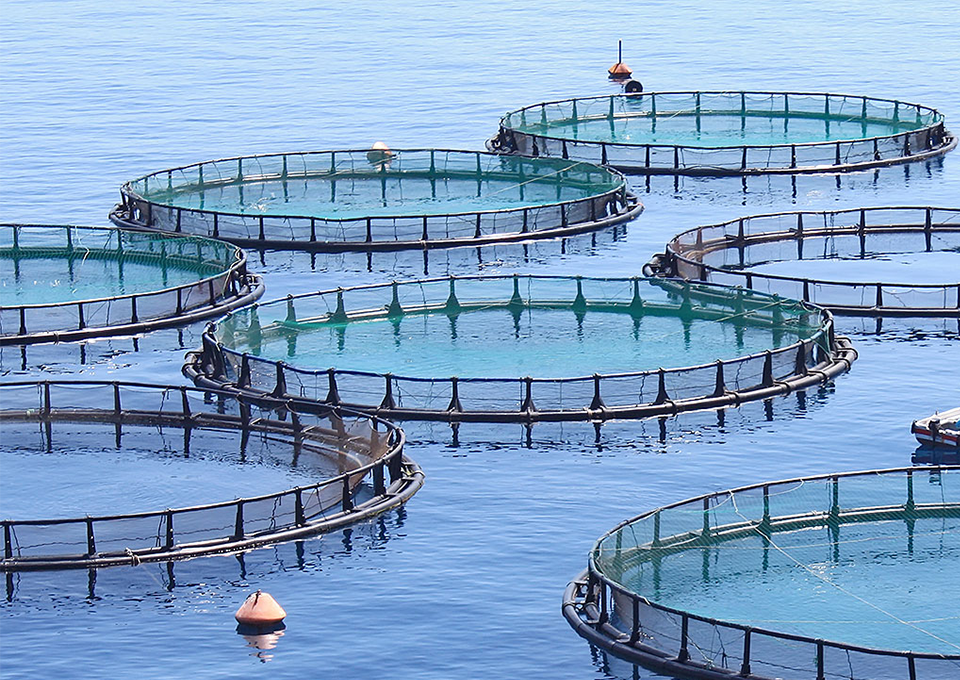 Conventional aquafarming is not only labour-intensive but a high-risk business, with unexpected incidents ranging from natural disasters such as tropical storms or floods to viral infections to even minor accidents such as a water aerator breakdown that threatens the oxygen supply in the water, could all easily lead to a catastrophic monetary loss. Aqua-farmers therefore typically dare not travel afar to take a close care of their farms.

Water quality is the primacy has thus been a consensus among farmers. With the implementation of smart water quality monitoring system, aquafarmers can easily keep track of the water quality in their pond and the health conditions of its fish, to further reduce use of drugs and mortality rate. Increase efficiency translates into profits. Spared from being tied up at the fish pond, farmers also enjoy more time exploring additional business opportunities to augment its sales.
E-peas Solutions
E-peas is compatible with photovoltaic and thermal energy harvesting solutions, which allows you to take advantage of the temperature difference between above and beneath the surface of pond water to generate energy. Take a look at the "AEM20940 for Thermal Harvesting" section below for more details. Select customers also chose "photovoltaic" solutions, which makes a good use of the abundant sunlight Mother Nature provides to supply your smart aquaculture solutions. For details, visit the page here.
AEM20940 for Thermal Harvesting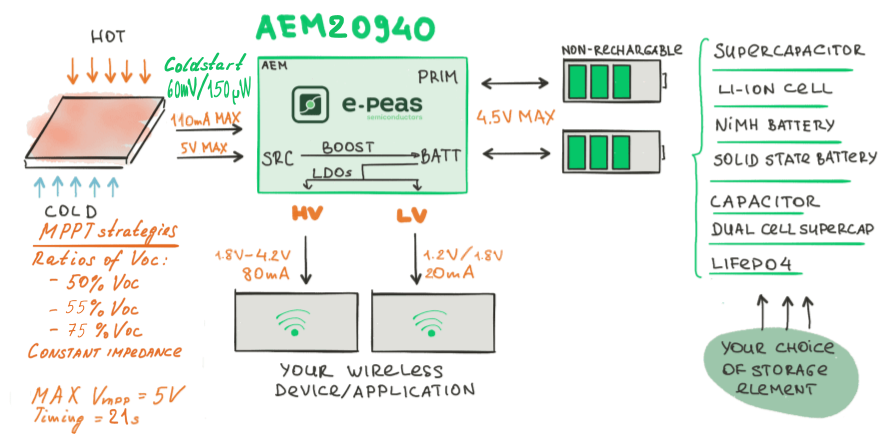 Ultra-low-power start-up
Cold start from 100 mV input voltage and 80 µW input power (typical)
Ultra-low-power Boost regulator
Configurable MPPT with single-pin programming
Selectable MPP ratios of 50, 55, 75%
Open circuit voltage sensing for MPPT every 21 s
Input voltage operation range from 50 mV to 5.5V
Integrated LDO regulator at low voltage
1.2/1.8 V, high efficiency
Up to 20 mA load current
Power gated by external control
Integrated LDO regulator at high voltage
Configurable : 1.8-2.5-3.3 V
Up to 80 mA load current with 300 mV drop-out
Power gated by external control
Flexible energy storage management
Programmable overcharge and overdischarge protection
For any type of rechargeable battery or (super)capacitor
Fast supercapacitor charging
Warns load when battery is getting empty
Warns when regulators are switched on
Optional primary battery
Automatically switches to the primary battery when secondary battery gets empty
Documentation

AEM30940 for thermal harvesting
E-peas' thermal energy harvesting IC solution – AEM30940 – is an integrated energy management subsystem that extracts DC power from TEG to simultaneously store energy in a rechargeable element and supply the system with two independent regulated voltages. This allows product designers and engineers to extend battery lifetime and ultimately get rid of the primary energy storage element in a large range of wireless applications like industrial monitoring, home automation, wearables.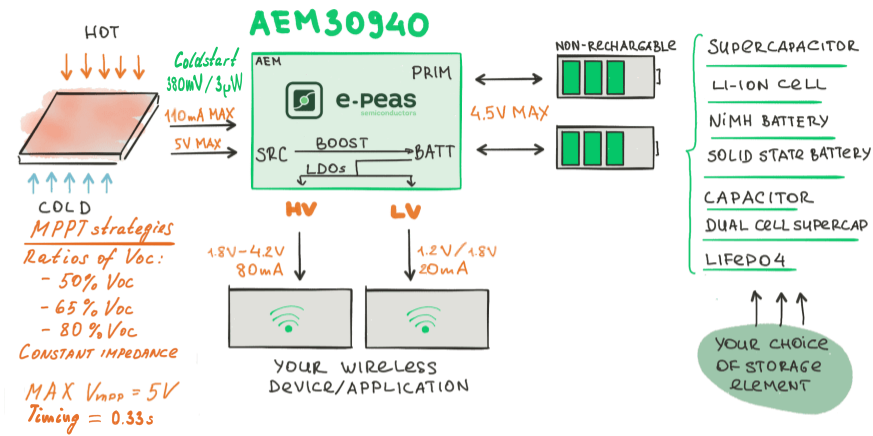 Ultra-low-power start-up
Cold start from 380 mV input voltage and 3 µW input power (typical)
Ultra-low-power Boost regulator
Configurable MPPT with single-pin programming
Selectable MPP ratios of 50, 65, 80, 100%
Open circuit voltage sensing for MPPT every 0.5 s
Input voltage operation range from 50 mV to 5.5V
Integrated LDO regulator at low voltage
1.8 V, high efficiency
Up to 10 mA load current
Power gated by external control
Integrated LDO regulator at high voltage
Configurable from 2.2 V to 4.2 V
Up to 80 mA load current with 300 mV drop-out
Power gated by external control
Flexible energy storage management
Programmable overcharge and overdischarge protection
For any type of rechargeable battery or (super)capacitor
Fast supercapacitor charging
Warns load when battery is getting empty
Warns when regulators are switched on
Smallest footprint, smallest BOM
Only seven passive external components
Optional primary battery
Automatically switches to the primary battery when secondary battery gets empty
Documentation
| | | | |
| --- | --- | --- | --- |
| Item | Version | Last Update | Download |
| AEM30940 product brief | PB_AEM30940_Rev1.1 | 13/12/2017 | Download |