We've got your back! Enjoy expansive and unobstructed view of the world behind when you drive! Hawyang E-Mirror Solution uses HD Megapixel camera and real-time delay-less SerDes technology to video stream the scene behind your vehicle onto the panel installed in the car.
Unimpeded View
Hawyang E-Mirror offers drivers enhanced visibility by cancelling obstructions of passengers, headrests and the vehicle's roof as well as rear pillars.
With just one touch, driver can activate the camera installed at the back of the car, which captures live HD video. The in-car E-mirror then displays these video streams without delay. Our E-mirror allows driver immediately enjoy an unobscured real-time rear view to monitor traffic conditions on the road, a luxury motorists in the past couldn't enjoy with a typical optical rear-view mirror.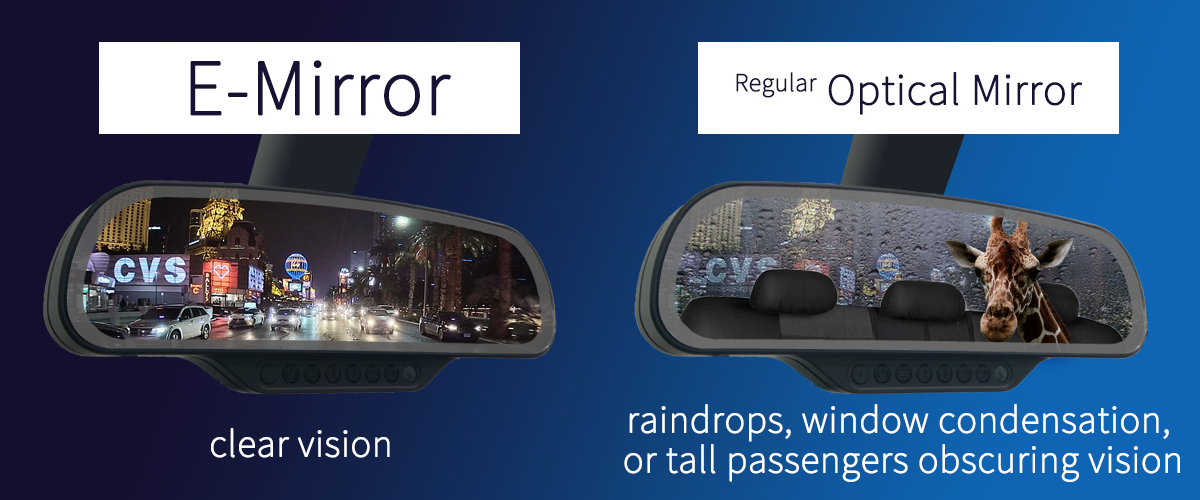 State-of-the-art Technology
Hawyang E-mirror solution incorporates a 720p HD digital camera with SONY® CMOS sensor* to guarantee the best HDR performance even under severe conditions, such as photographing in a low-light environment, and minimize LED flickers.
Hawyang follows the highest industry standard and uses the latest SerDes technology* developed by Inova Semiconductors® and THine Electronics® for video transmission from camera to display, to ensure a stable and reliable product free from EMI and interference and signal attenuation.
Capture Every Moment
Hawyang E-mirror can also be equipped with a second camera, installed directly on the back of the LCD display.
This uniquely designed forward-facing camera can serve as a dash-cam for recording purpose. In an unlikely but unfortunate event of a road accident, every moment will be captured so will your rights be well-protected.
Made As You Prefer
As a professional solution provider, Hawyang remains flexible and allow customers define their own specifications as they prefer.
Hawyang works closely with global and local component suppliers to ensure timely and quality delivery of its standard products, but also encourages customers, should they have different market-specific needs, to propose their own preferred specifications. You are more than welcome to specify your preferred key components such as panel models and image sensors, or even supporting materials such as cables and connectors.