Aimmet & Inova to attend Electronica 2018 in Munich, Germany
2018. 09. 03

Aimmet Industrial Co., Ltd. of Taiwan and Inova Semiconductors of Germany, two of the most popular and sought-after brands in Hawyang's automotive portfolio, will exihibit at this year's (2018) biennial Electronica in Munich, Germany. Both Aimmet and Inova Semiconductors will be showcaing their newest technology, including high-speed data communicatoin cables and connectors, as well as APIX3, the pioneering SerDes technology favoured by OEMs around the globe. Not to forget the innovative ISELED, in-car ambient lighting technolgy developed by Inova Semiconductors, which will also not only be shown on the exhibition floor, but featured at forum panels this year.

Electronica is on of the world's most anticipated professional exhibitions in the global electronic/semicoductor industry. Hawyang Semiconductor is proud to annouce the participation of our partners at Electronica this year, and staff will be on-site to talk to prospective/intersted customers.


Please refer to the visitor's information below:
Time
Nov 13th (Tue) ~ Nov 16th (Fri), 2018
Venue
Messe München
Munich, Germany
Booth Number
Aimmet Industrial
Hall B4, Stand W17
Inova Semiconductors
Hall B4, Stand 301
Organizer's Website
Electronica 2018
Pre-show Contacts
automotive@hawyang-semi.com
On-site Contacts

Ian Lee
+1-559-426-5336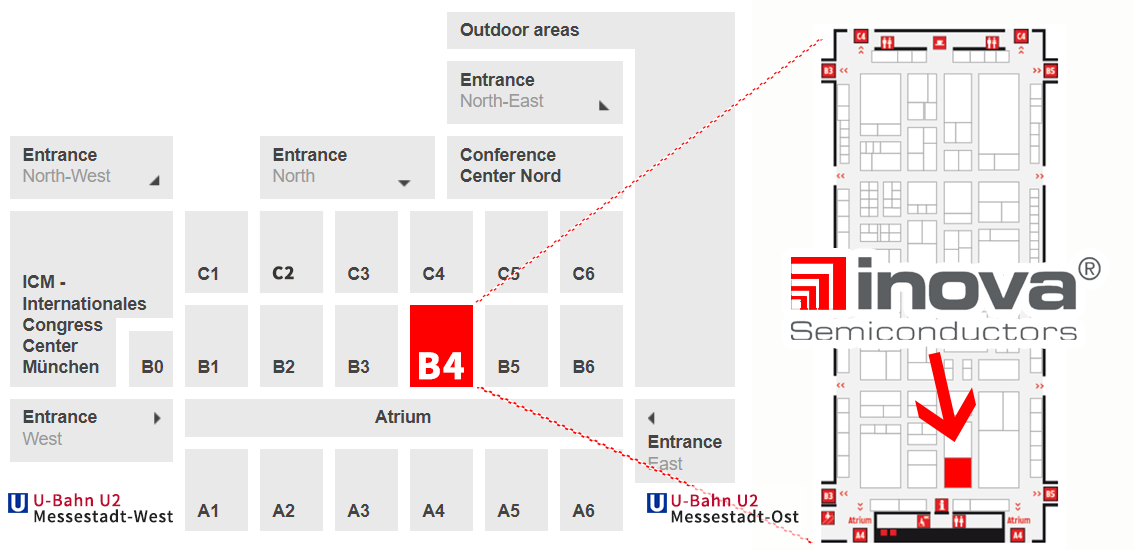 Meanwhile, Mr. Stefan Hoffman from Inova Semiconductors will also speak at the concurrent conference of "Automobile Lighting and Communication":
Messe München on Google Map:
About Inova Semiconductors
Inova Semiconductors is a Munich-based German fabless design house, which has been specialised in the research and development of high-speed communication technology, and successfully applied such technology in major public transport infrastructure projects across the globe such as the Airport Express in Hong Kong, and PATH railway service by the Port Authority of New York and New Jersey in the United States.
In 2007, Inova launched APIX (Automotive PIXel link) as a breakthrough product for uncompressed, real-time video and data communication. Its superb electromagnetic compatibility (EMC) makes APIX a proven technology in the automobile industry to fight againt EMI interferences. APIX has been rapidly adopted by numerous global carmaker heavyweights and successful stories counting.
APIX not only fulfills the demands of high-resolution in-car video applications, but also supports transmissions of audio, control, and Ethernet signals all over one single cable, significantly reducing carmakers' production costs and permitting the greatest degree of flexibility in infotainment system design to allow designers easily improve interactive user experiences. APIX's bidirectional communications without delay also contributes to driving safety, making APIX a much-loved technology among engineers who develops active safety and advanced driver-assistance systems.
In addition to video and network applications in cars, APIX has also aroused a lot of interest in other market segments, such as security & surveillance, as well as medical applications and digital camera systems.
In 2017, Inova Semiconductors announced the state-of-the-art APIX 3 technology, now supporting data transmission bandwidth up to 12 Gpbs, solving the industry thirst for ever-growing demand for high-resolution videos.

In addition to video and data communication, Inova also announced a novel LED lighting technology, ISELED, in late 2016. ISELED involutionalized the lighting industry to first implement differential communication signal controlling chip into each RGB LED modules, allowing the module emit dynamic colors without ageing or temperature hinderance. The conecpt also largesly reduces manufactuing costs for LED suppliers and therefore the overal costs for customers, such as automotive OEM, to implement on vehicles.

Visit this page to learn more about Inova Semiconductors.


About Aimmet
Aimmet Industrial Co., Ltd. is formed in 1996 by a group of professional technicians that are devoted themselves to RF coaxial and Automotive Fakra HSD connectors. Aimmet Industrial, a the leading manufacturer in Taiwan, is certified by ISO 9001, ISO/TS 16949, ISO 14001 quality and environment management systems, and focuses on designing, manufacturing and assembling the advanced high-tech connectors.
In 2009, Aimmet successfully developed the 1st High performance LVDS (low voltage differential digital signals) high speed data HSD connector, the HSDaimmet, in Asia. HSDaimmet combines the characteristics of IEEE 1394 & USB interface that prevents interference by crosstalk and external noise, and offers 2 pairs (4 pins) bidirectional high speed data transfer. It is applicable to automotive infotainment system, USB, IEEE1394, Ethernet and LVDS cameras, etc. HSDaimmet is compatible with European manufacturer.

Visit this page to learn more about Aimmet Industrial.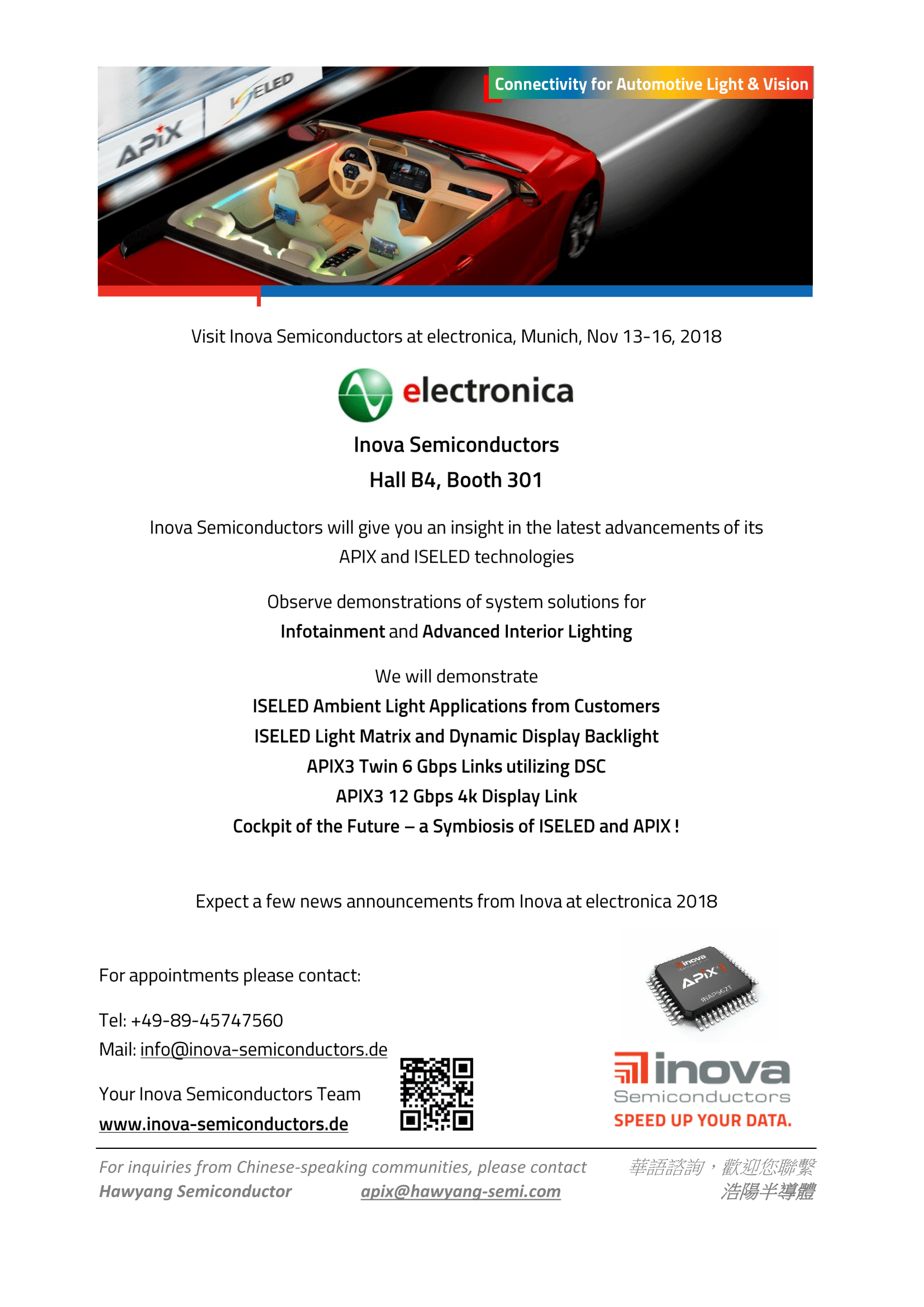 ---
檔案下載: